AMAZE•
PEOPLE
At ZOA, we believe that the reason we exist beyond making wonderful imagery is to make friends.
People that work here are smart, driven, and social fools. We envision a company where people care about each other, not just themselves, feel a sense of ownership, and act responsibly both for themselves and their fellow teammates here.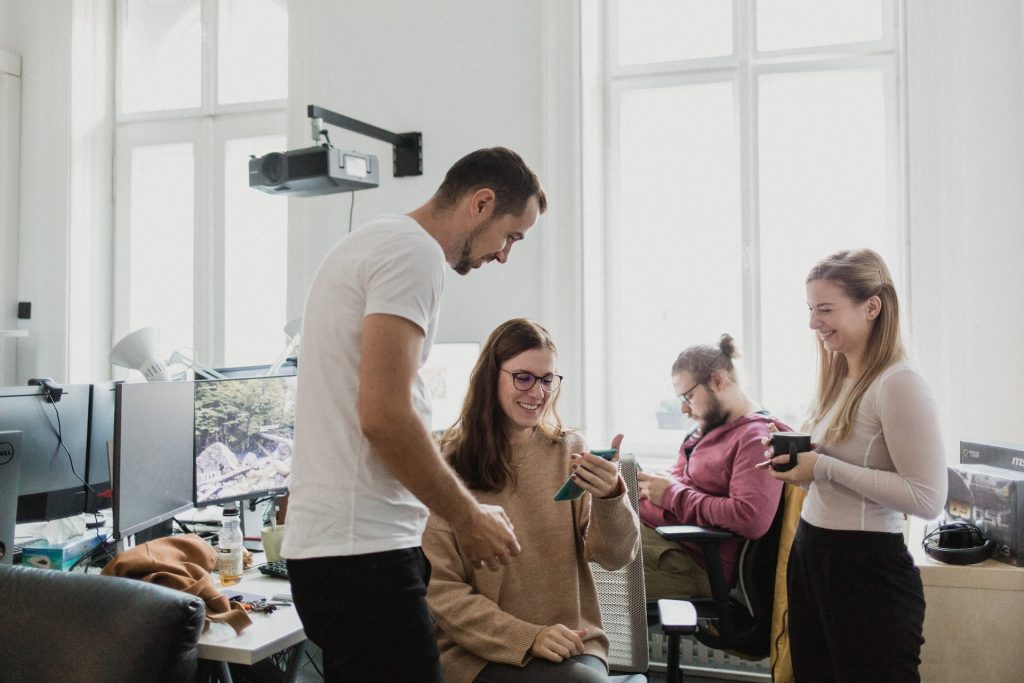 We're always looking for new friends.
Check out our open roles.
---
About ZOA
Our mission is to make friends by creating amazing architectural imagery worldwide. Working with a number of the world's top designers including Snohetta, UNStudio, and Zaha Hadid Architects, ZOA has completed over two hundred major projects in the past fifteen years creating many thousands of images, animations, and virtual reality projects. Featured in publications such as Archdaily, DeZeen, Designboom, and Forbes.
About the role
// We are looking for CG Artists to join us in our office where we share a multicultural environment and speak English
// We model with 3dsMax & render with Corona and post-produce with AE and Premiere for animations – Photoshop for images
// We'll make sure to help you grow here by sharing our knowledge and giving continuous feedback about your path
// We believe that a cozy and good atmosphere at work is essential and a key to keep you motivated and maintain a healthy life-work balance
// We have our office just in the middle of 'Soho' Budapest – It makes a difference
Who you are
// You enjoy creating emotional Animations & Images that meet the highest industry standards
// You are a true team member and want to share our passion for imagery
// You have an eye for composition and storytelling
// You are highly skilled in the field of 3D CGI and have an education in Architecture or Design
// You have at least 2 years of experience working with 3D CGI
// You can work against deadlines and still be motivated to deliver quality
Benefits
You'll find a supportive culture of continuous growth and empathy. And we also offer an expected net monthly Salary: 1200-2200 EUR (plus Overtime, plus Bonuses)
How to apply
Email your CV and Cover Mail (no more than 250 words) with a Portfolio (compiled in a *.pdf smaller than 5 Mbs) to [email protected].
Protip: We're pretty much image-focused and encourage you to think about the following: "A portfolio is only as good as the worst image in it." Select the 6-10 best renders (mostly exteriors) that you think sum up who you are. 100-page-long portfolios are surprisingly easy to misjudge, and also you have to be able to express yourself in a focused, condensed manner.
---
Founded in 2005, ZOA Studio specializes in producing architectural visualizations and animations using advanced 3D technology. From our cozy offices in Budapest and Valencia, we serve some of the world's leading architectural firms and real estate developers to showcase their ideas, projects, and designs to a broader audience in the coolest way possible.
If you are a nice person with exceptional communication skills and an excellent command of English, can read architectural plans, and would like to work on international projects, then we're looking for you!
About the role
// We are looking for Project Managers to join us in our multicultural, English-speaking office in Budapest
// We'll make sure to help you grow with us by sharing our knowledge and giving you continuous feedback along the way
// We believe that a cozy office environment and positive atmosphere at work are essential to keep you motivated and maintain a healthy life-work balance
// Our office is right in the center of the 'Soho' of Budapest – So it's definitely a plus
Your tasks as our project manager
// Organizing the execution of our visualization projects
// Communicating in English from the project start to finish
// Creating schedules for the projects and supervising their realistic execution
// Outsourcing projects, overseeing subcontractor's work and deliveries
// Controlling the technical and aesthetic quality of the submitted work and aligning them with client requirements
// Channeling art direction to the production team
// Participating in the creative pre-production steps
// Keeping administration tasks in check
Application
Send us your CV to [email protected] or click the "Apply" button below.
---
---
Don't see your dream job?
Submit a general application/portfolio to [email protected] and we'll let you know if something comes up that would be perfect for you.