Bulgwang District
Introducing a breathtaking, super-green district in Seoul

Often called a city of contrasts, Seoul has a lot more to offer than cherry blossoms and K-pop. The South Korean capital is home to the headquarters of numerous Fortune 500 companies, including Samsung, LG, and Hyundai. The country has been booming for decades and in the meantime, architecture has blossomed too, and as a result, the urban landscape has changed accordingly.
In the near future, the new ceramic facades of the masterplan will be merged with the tiled roofs of traditional hanok houses, retail shops with local tea houses and shoes-off restaurants. All close to the granite peaks and the rustic rocky landscapes of the Bukhanasan National Park, that is Korea's most popular hiking destination, and one of the most visited national parks of the world.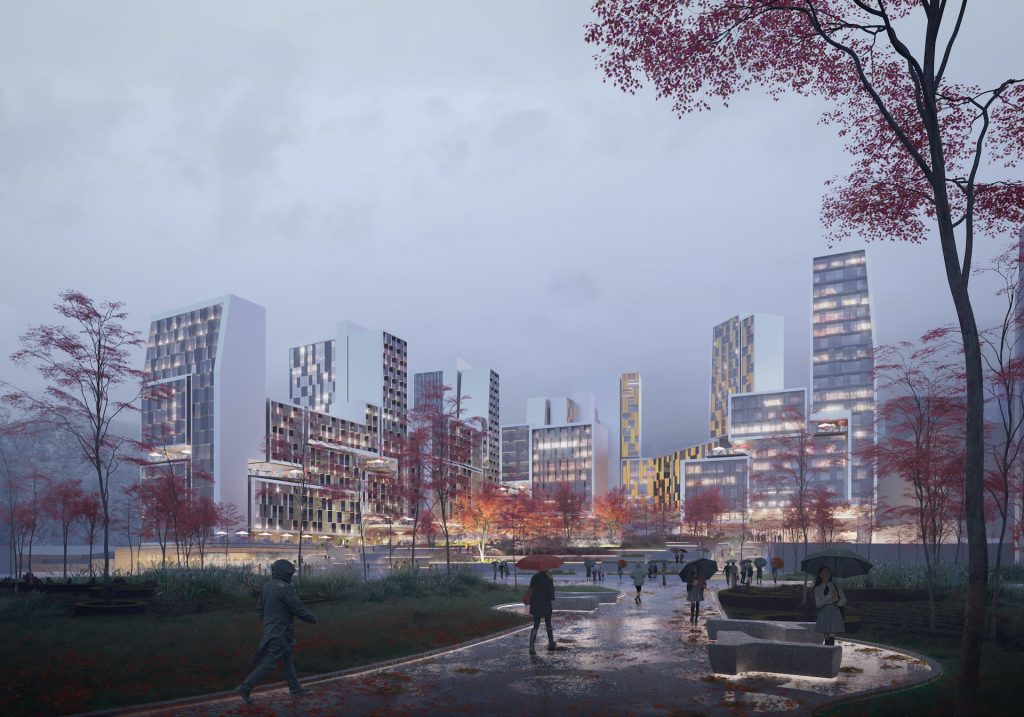 A breathtaking city concept in Seoul

What we can say for sure is that the new district will become an example living destination—not just for the sake of future generations of Koreans but for enthusiasts of modern architecture, by extending the landscape from Mt. Bukhan to the city. Fundamental ideas that were also useful inspiration for the final imagery, were: supporting the local economy, utilizing solar panels, and using new types of mobility to reduce car emissions.
Generally, the ground floor is retail and all upper levels are residentials in the complex. The facade outside is clean and simple, made out of mostly dark metals and bluish tone materials. Inside, the atmosphere is completely different. When entering the building, we can find ourselves in the middle of a spectacular experience, the usage of orange and yellow ceramic lamellas was a conscious choice to enhance the bright atmosphere.

For us, understanding ongoing architectural proposals and realizing their effects in the future is just as important as creating realistic images that at an early stage might not be picture-perfect, but evoke feelings and tell stories. Architectural visualization is simply remembering the future.
Luckily, UNStudio was again extremely open to our suggestions during the collaboration. For us, having this kind of freedom through the visualization process is always helpful to be able to find the perfect atmosphere.
This time, we also had a chance to have fun with the coloring on the first sketches to see what will, and what won't be in line with the masterplan. In the end, we created one dusk and two late afternoon images which you can see here.
With these, we feel ready to test the waters in the media. UNStudio's latest competition-winning proposal for the Korean architectural contest will be published in the next couple of weeks, along with our carefully crafted 3d rendering.

---
---
---
Mohammed Elnabarawy
Bence Falussy
---