Lassa Living
Norwegian Artisans Shape Urban Living with Eco-Conscious Architecture
Redefining the art of urban living

On Norway's Southwestern coast lies a captivating city that invites travelers with its idyllic charm and picturesque streets lined with colorful wooden houses.
As the gateway to some of the top natural wonders in the region, Stavanger casts a spell on visitors with its unforgettable landscapes, historical and culinary delights.
Join us on our cinematic journey of discovery as we delve into Norway's third-largest city, revealing its new residential development, Lassa Living.
Experience how it redefines the art of urban living in Scandinavia with a range of freehold apartments facing South and West, providing stunning views of the surrounding geographical advantages and a greener future.
Natural light from three sides

The project, developed by Base Bolig in collaboration with architecture studio Link Arkitektur and marketing agency Ensign, features four new buildings installed on a new site.
In their work, the architects have prioritized spaciousness and natural light, designing bright apartments to receive sunlight from three sides, thanks in part to the extensive use of corner windows.
One of the buildings' standout features, wood cladding adds both aesthetic appeal and champions the noble cause of environmental sustainability, making the project a standout in each of our architectural visualizations.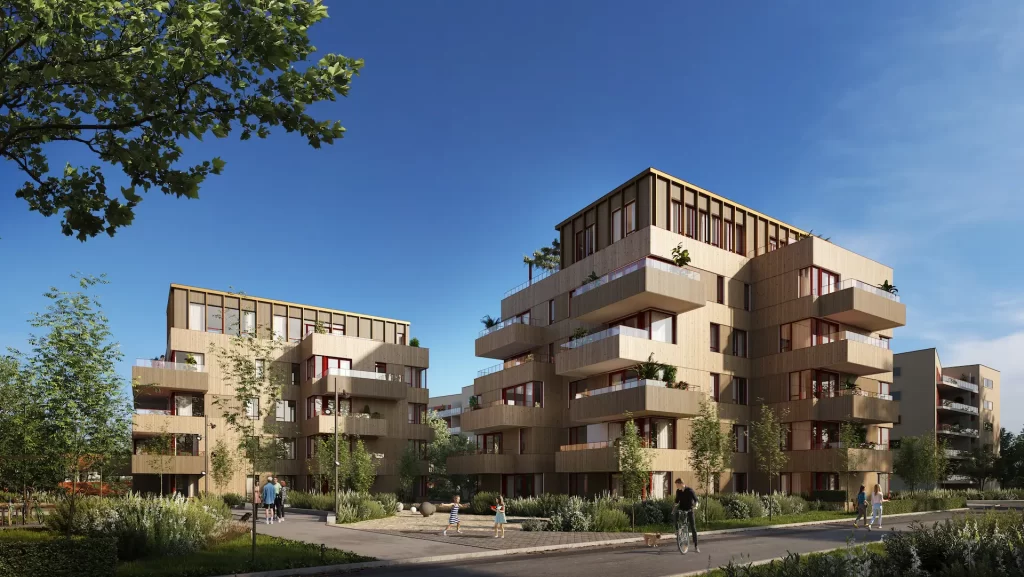 Private balconies seamlessly integrate with the living areas, allowing residents to easily combine indoor and outdoor living and enjoy expansive views of a good-looking 'grass bed' in the courtyard.
The thoughtfully designed outdoor area provides intimate and green spaces where residents can gather, surrounded by berry bushes and cherry trees. It benefits not only humans but the nature around us as well, from bees to birds. 
Meanwhile, residents can also enjoy the nearby walking and cycling trails around Mosvatnet Lake which offers opportunities for outdoor adventures and free fishing amidst breathtaking natural landscapes. Who knew having a fishing rod in Stavanger would be so essential?
The development is conveniently situated near schools, shops, street markets, and restaurants, ensuring easy access to daily necessities and entertainment. The city's well-connected public transportation system further enhances accessibility, allowing residents to explore Stavanger and beyond with ease.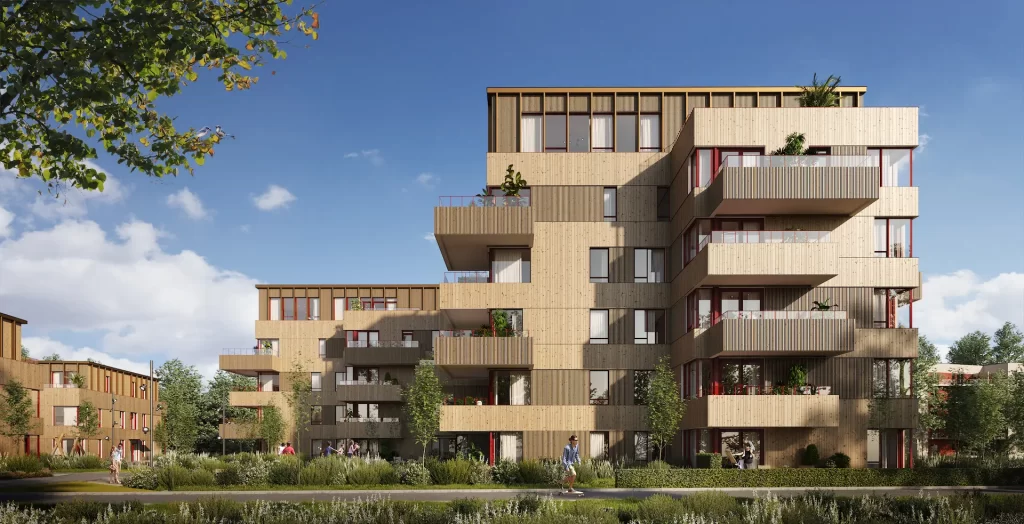 The project gave us a chance to tell the story of Lassa from our angle. In creating a beautiful digital experience through animation and architectural visualizations, we decided to use slow tempo, calming piano music, real shots of authentic, natural landscapes, and paintings adorning the walls to dream up a lovely atmosphere.
A dragonfly subtly connects the scenes as it flits in and out of focus, reflects off surfaces, and appears on artworks. It symbolizes change and transformation, aligning perfectly with the transformative nature of the development itself.
In conclusion, the film and all the other architectural images paint a clear picture of the buildings but also offer a glimpse into the essence of urban living in the North, where residents can cherish the tranquility and luxury that this unique project has to offer.

Staying true to local values

The development process of Lassa Living emphasizes collaboration with local suppliers and craftsmen, contributing to the region's economy and fostering a sense of community. 
The use of high-quality materials and the implementation of meticulous construction techniques ensure that every aspect of Lassa Living reflects the craftsmanship and expertise of local artisans, adding a distinct character and authenticity to the project.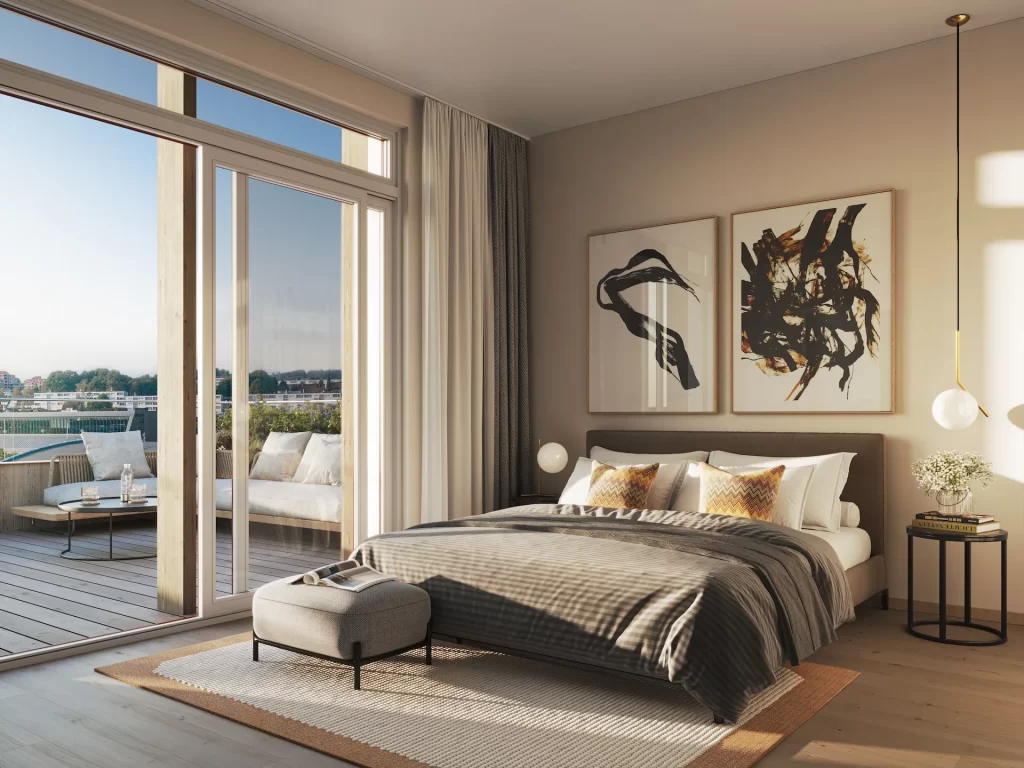 The architecture of the buildings has been carefully crafted to harmonize with the existing surroundings, blending seamlessly with the single-family houses in the west and the area's block housing. However, the design language incorporates large cantilevered balconies that extend outward from the building to create a unique character and stand out just a bit from the scenery.
Commitment to renewable energy

Lassa Living offers well-crafted and elegant interiors supplied by Norwegian brands known for their innovative solutions. For example, kitchens are designed to provide sufficient space for activities and social gatherings, while light and elegant bathrooms are equipped with waterborne underfloor heating and quality furnishings to ensure a stylish and easy-to-maintain environment.
But what's even more important than comfort and functionality is their commitment to renewable energy with a leading energy company supplying green electricity to the site. This dedication to sustainability extends beyond the construction phase as plans include installing waste management systems and inspiring residents to embrace eco-friendly practices. 
The unique combination of inside and outside living, and our delivered architectural visualizations will no doubt accelerate the selling process, allowing residents to experience the beauty and spaciousness of this top-notch development while embracing a greener, more sustainable future in an extraordinary place they can call home.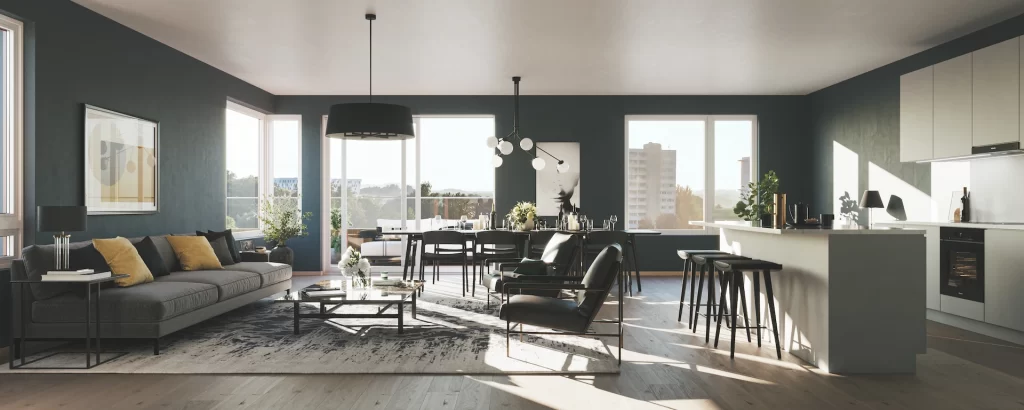 ---
---
---
---
---
Péter Kollár
Dorottya Tóth
Ilus Varga
---
---