Mcdowell Mountain Park
Krause x ZOA Presents New Badass Nature Center Buried Into The Desert

Located in the northeast region of Phoenix, the 21,099-acre McDowell Mountain Park offers a unique experience with more than fifty miles of natural trails in the wilderness.
Mountain bikers, equestrians, and hikers can enjoy the view of the Phoenix skyline and the prominent mountain ranges nearby with occasional sightings of the wildlife unique to Arizona like deers, coyotes, and black bears.
Despite its arid climate and seemingly bare landscape, this region has got its own charming side to it. This particular combination of two opposite aspects of the site made it an exciting task for us to come up with architectural visualizations for Krause's latest project, a fascinating alternative future for the park's new visitor center with cutting-edge construction techniques.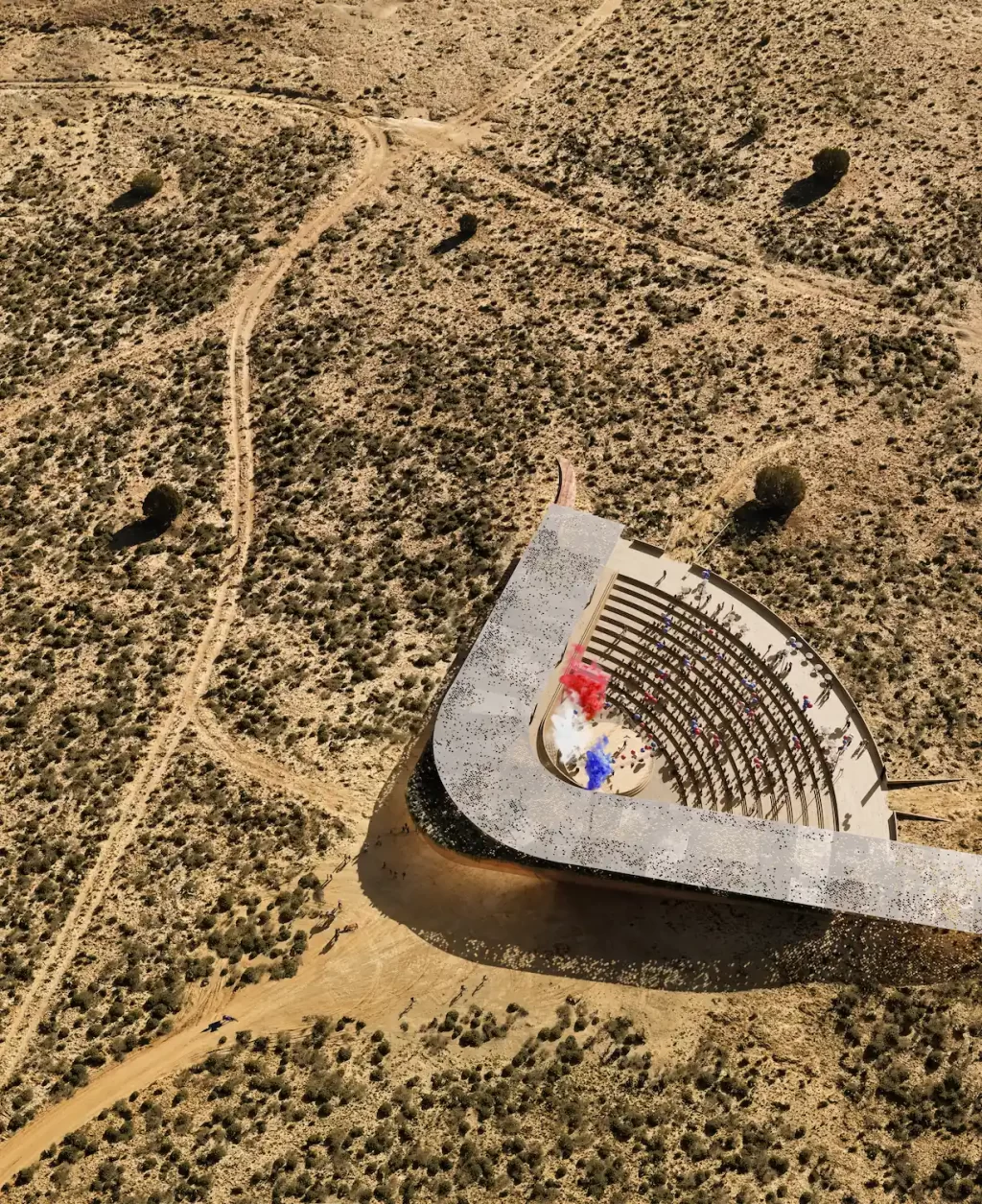 Taking root in the desert

The new structure will blend into the yellow surface so well that you will have a feeling as if it was being swallowed whole. By using 3D printing technology and re-using excavated Earth material the building becomes an element of the natural environment itself and bridges the gap between constructed and uncultivated.
The ribbed surface of the building mimics the structure of the Saguaro Cactus which protects and shades the interior from the extreme desert sun. This feature allows native flora to grow from the building and photosynthesize. It's not just becoming a living and breathing organism but an extension of its surroundings.
The intense sunshine and long summer days often result in uncomfortable, what's more, dangerously high temperatures in the Arizona desert, so designing a building to hide and blend into the ground to the point that almost disappears seems spot on.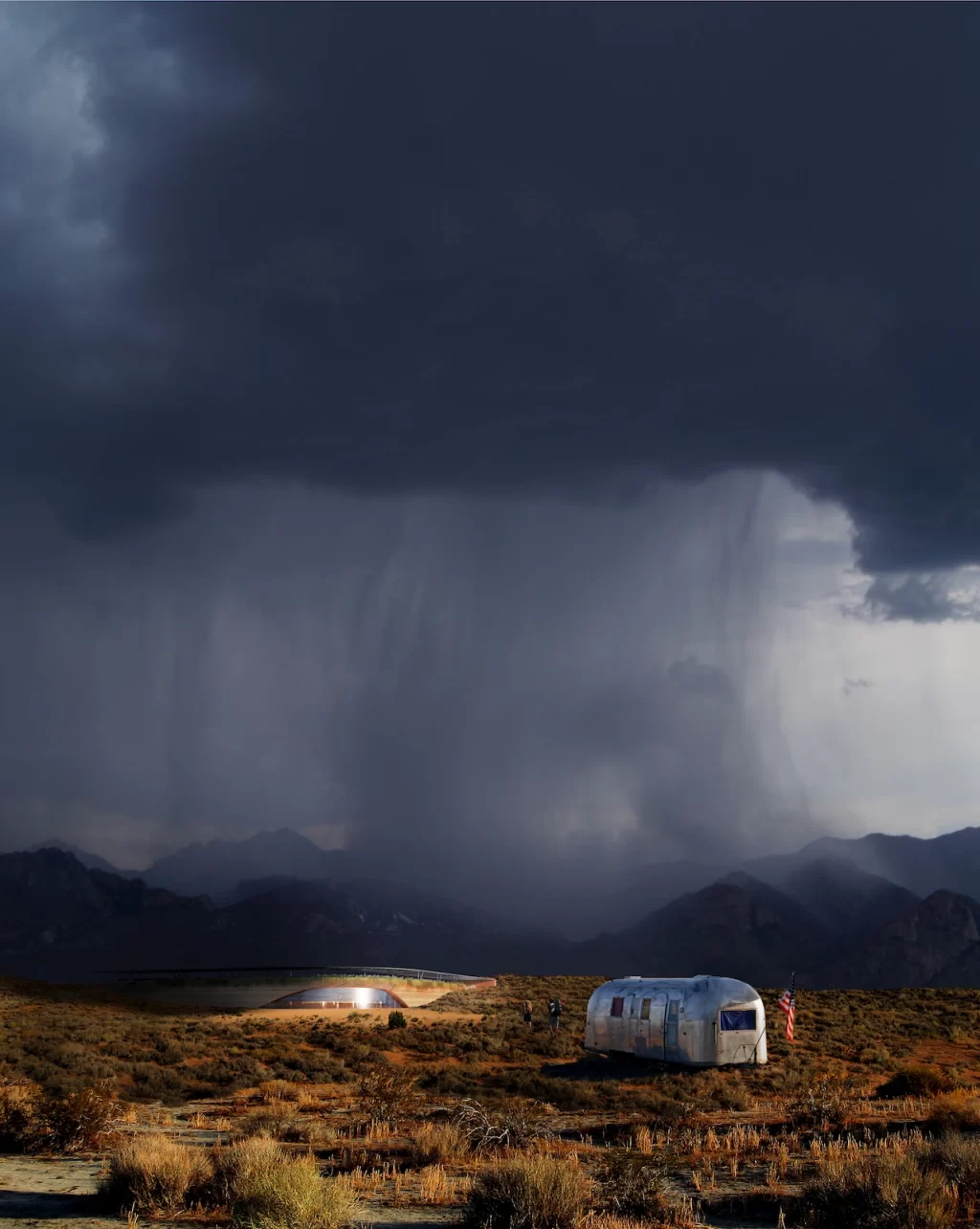 It's been more than a year since our kick-off call with Michael and Anthony, but this amazing architectural project still looms large in our memory. Especially when we come across our images.
Bringing together the dramatic mix of growing heat, uncultivated nature and velvet hour—when the sky turns to purple in the shimmering Arizona desert, the new Nature Center provides a unique experience designed to reconnect a modern, attentive audience with nature.
As an architectural competition, with its strict deadlines, there was a huge challenge on our hands but also a massive opportunity for the company. We made new friends at Krause, and deepened our relationships in the United States, but on the other hand, we had the chance to experiment with extreme desert conditions to highlight and underline the connection between a man-made structure and a rough landscape on our renderings.
Our team was super happy to finally show you these renderings and we can't wait to see this timeless mystical vision come to reality.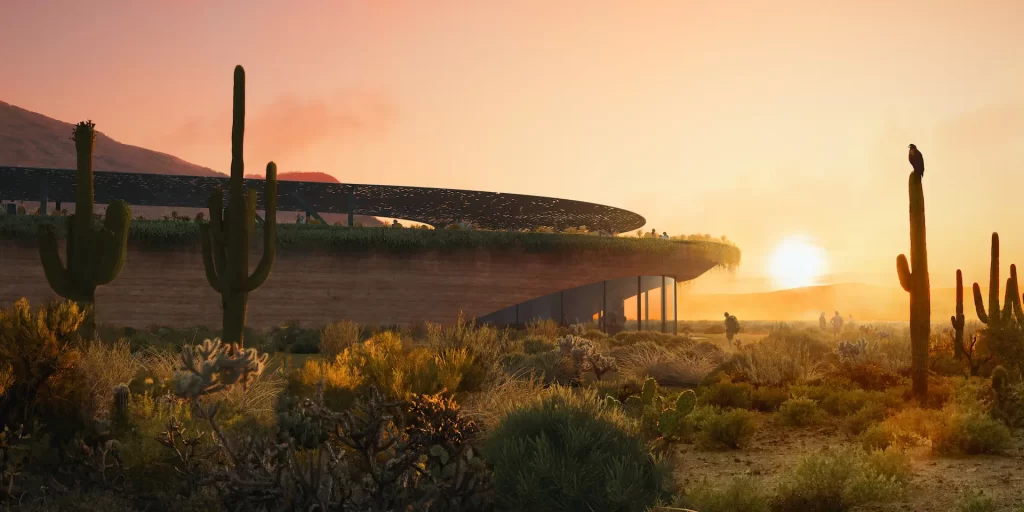 ---
---
---
Bence Falussy
Jákob Czinger
Dániel Oláh
Krisztina Sárdi
---